West Chester, PA – Amsted Digital Solutions was honored to host US Representative Chrissy Houlahan at the Amsted Digital office on August 1, 2023.
During her visit, Rep. Houlahan had the opportunity to chat with Amsted Digital team members about our unique employee-ownership structure as well as our innovative approach to improve rail fleet management.
Our team is grateful to the representative and her team for their engagement in our community and support of Amsted's employee-ownership model that promotes long-term sustainability and shared success.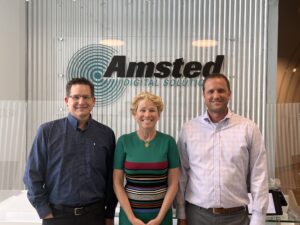 Pictured left to right: Todd Snyder, Ph.D., Amsted Digital Director of Sensors & Analytics; Chrissy Houlahan, US Representative, PA – 6th District; Evan Weiner, Amsted Digital Vice President – IoT Technologies